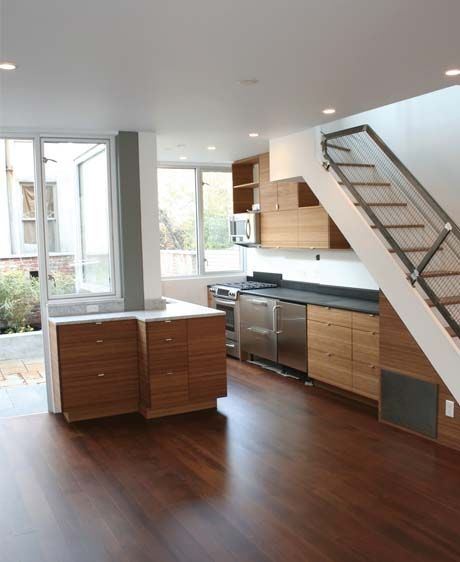 STUDIO ONE ARCHITECTS, P.A.
IS A FULL SERVICE, MULTI-DISCIPLINED ARCHITECTURE, INTERIOR DESIGN, & CONSTRUCTION MANAGEMENT FIRM FOUNDED BY ANTHONY D'ANGELO, AIA AND ROBERT A. FEINSTEIN IN 1999.
STUDIO ONE WORKS WITH A TEAM OF HIGHLY PROFESSIONAL CONSULTANTS TO PROVIDE OUR CLIENTS WITH A COMPLETE AND THOROUGHLY COORDINATED PROJECT. WE UTILIZE THE LATEST IN CADD TECHNOLOGY TO AID IN OUR DESIGN AND PRODUCTION SERVICES. OUR STAFF HAS DIVERSE EXPERIENCE IN COMMERCIAL, CIVIC, EDUCATIONAL, AND RESIDENTIAL PROJECTS IN DESIGN AND CONSTRUCTION. WE MAINTAIN A COMMITMENT TO EXCELLENCE IN DESIGN WHILE WORKING WITHIN OUR CLIENT'S BUDGET, AND HELPING THEM MEET THEIR CONSTRUCTION DEADLINES.
ANTHONY D'ANGELO, PRINCIPAL ARCHITECT,
ANTHONY D'ANGELO IS A GRADUATE OF NEW JERSEY INSTITUTE OF TECHNOLOGY (1989) AND IS LICENSED IN NEW JERSEY AND NEW YORK. HE IS A MEMBER OF THE AMERICAN INSTITUTE OF ARCHITECTS AND SERVES ON THE BOARD OF TRUSTEES FOR THE LOCAL CHAPTER. HE IS A CREATIVE DESIGNER AND A HIGHLY FOCUSED PLANNER AND PROJECT MANAGER.
AS THE PRINCIPAL ARCHITECT AND PRESIDENT OF STUDIO ONE ARCHITECTS, ANTHONY OVERSEES ALL PHASES OF ARCHITECTURAL AND INTERIOR DESIGN DEVELOPMENT FOR RESIDENTIAL, COMMERCIAL, RETAIL, CIVIC AND RELIGIOUS PROJECTS. HE IS HEAVILY INVOLVED IN CONSTRUCTION MANAGEMENT, OFTEN SERVING AS LIAISON WITH PRIME CONTRACTORS ON BEHALF OF CLIENTS, AND HIRING AND COORDINATING THE WORK OF MECHANICAL AND STRUCTURAL ENGINEERS.
ANTHONY'S PROJECT MANAGEMENT SKILLS ARE PUT TO USE FREQUENTLY AS CONSULTANT OR ASSOCIATE ON LARGE CIVIC PROJECTS SUCH AS THE REDESIGN OF INTERCHANGE NO. 1 FOR THE NEW JERSEY TURNPIKE AUTHORITY AND THE ST. AUGUSTINE R.C. CHURCH OF NEW CITY, NY. RECENTLY HE ADMINISTERED THE
CONSTRUCTION OF A $20 MILLION E.D.A.-FUNDED FACILITIES IMPROVEMENT PROJECT FOR THE TEANECK (NJ) BOARD OF EDUCATION.
BEFORE ESTABLISHING STUDIO ONE ARCHITECTS, ANTHONY HONED HIS DESIGN AND MANAGEMENT SKILLS BY WORKING HIS WAY UP THE LADDER IN SEVERAL NEW JERSEY ARCHITECTURAL FIRMS. ALONG THE WAY HE ACQUIRED A STRONG SENSE OF QUALITY DESIGN, DEDICATION TO THE DETAILS THAT MAKE PROJECTS SUCCESSFUL, A MATURE RESPECT FOR MATERIALS, TIMETABLES AND CLIENTS' REQUIREMENTS AND BUDGETS.
ANTHONY, WHILE WORKING FOR THE WESTFIELD CORPORATION GAINED EXTENSIVE ON SITE CONSTRUCTION MANAGEMENT EXPERIENCE, RESPONSIBLE FOR PROJECTS SUCH AS THE $250 MILLION EXPANSION TO THE GARDEN STATE PLAZA. HE SUPERVISED THE CONSTRUCTION AND LEASING COORDINATION OF ALL 80 TENANT RETAIL FIT UPS.
ROBERT FEINSTEIN, DIRECTOR OF DESIGN & MARKETING
ROBERT FEINSTEIN IS A GRADUATE OF THE RHODE ISLAND SCHOOL OF DESIGN (1990), AND ATTENDED THE ARCHITECTURAL ASSOCIATION IN LONDON, ENGLAND.
AS A PRINCIPAL OF STUDIO ONE ARCHITECTS, ROBERT'S MANAGERIAL ACCOUNTABILITIES INCLUDE CLIENT CONTACT, FEASIBILITY STUDIES FROM ZONING AND DEVELOPMENT PERSPECTIVES, ANALYSIS AND PREPARATION OF CONSTRUCTION BUDGETS, INTERIOR DESIGN, CONSTRUCTION DETAILING AND EXPEDITING CONSTRUCTION DOCUMENTS WITH MUNICIPAL OFFICIALS. HE IS PERSONALLY RESPONSIBLE FOR $19-MILLION WORTH OF DESIGN AND CONSTRUCTION PROJECTS EACH YEAR.
ROBERT'S APPROACH TO DESIGN IS UNIQUE, SHOWING RESPECT TO ARCHITECTURAL HISTORY (HE RECEIVED A HOBOKEN HISTORIC PRESERVATION AWARD) WHILE ADVANCING AND INTEGRATING HIS OWN MODERNISTIC INCLINATIONS. HE IS ALSO RESPECTFUL OF THE ENVIRONMENT, SPECIFYING ENVIRONMENTALLY FRIENDLY MATERIALS SUCH AS "GREEN" ROOFING MATERIALS, AND IS HEADING THE FIRMS LEED PRACTICES.
APART FROM HIS ARCHITECTURAL PRACTICE, MR. FEINSTEIN HAS PURCHASED, DEVELOPED AND SOLD MILLIONS OF DOLLARS WORTH OF REAL ESTATE IN HOBOKEN AND ASBURY PARK, NJ, IN RECENT YEARS. HE AND HIS CLIENTS HAVE BENEFITED FROM HIS STRONG UNDERSTANDING OF THE POTENTIAL USES OF EXISTING STRUCTURES OR UNDEVELOPED SITES, AND FROM HIS ABILITY TO ANALYZE AND QUICKLY ENVISION THEIR REALISTIC POTENTIAL.
ROBERT'S COMPREHENSIVE UNDERSTANDING OF THE REAL-ESTATE MARKET AND HIS HIGH-END DESIGN APPROACH RECORDED ONE OF HOBOKEN'S HIGHEST PAID PRICE TAGS FOR A ONE BEDROOM CONDOMINIUM IN 2007, OVER ONE MILLION DOLLARS.